See my previous blog entry? The one I gush about how hot is Zachary Quinto? FORGET THAT. Because now I'm in looooveeeeee with Anton Yelchin. RIGHT, Pavel Chekov from Star Trek. The adorable russian navigator

Ok, before I continue writing this, please bear in mind, I'm in my SUPER FANGIRL mode.
I thought that I've already passed the era where I adore super cute uke-type guy. But then I see this:

Because if that picture I act like this (but in different terms of madness) :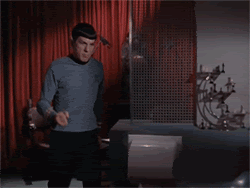 IS THAT THE SAME BOY THAT I SAW IN STAR TREK??? SINCE WHEN HE BECOME THAT GOOD LOOKING? asdWEFWRFWFCwAESXQXDX1~!@~@E#W@#$@$
It also not helping that I've found this video of him being adorable and vulnerable from
ontd_startrek
(I recommend this community if you guys want to find crazy fangirls make fun of star trek actors LOL)
SHITE. I'm sold T.T He's just so freaking adorable. It's also not helping that he's being all smart and funny T.T I think this is the first time I like an actor whose around my age LOL. Usually guys that I like are just too old~! So I got excuse to like him, he's around my age~! I'm not guilty~! Now I just can't wait for his next movie, Terminator Salvation where he played teenager Kyle Reese.
Oh, well~ XD Ok, time to turn off my super fangirl mode. Let's talk about college life now T.T
This term we continue doing our FPS, graduation campaign, and Industry practice. Somehow for graduation campaign I become treasurer. Actually almost all MM students become the board member. Chen as the president, Wahyu as Art director, Diana as PR, Chris as Marketing assistant, Sel and representatives of MM. So this term we're as busy as ant workers T.T I hope we all can pass this term and graduate together =)
Ok, gtg now. Having meeting with classmates for graduation campaign idea~